Xinyu Iron and Steel Group reducer case-China (WGT) Weigao Transmission Machinery
Views: 1 Author: Site Editor Publish Time: 2012-12-04 Origin: Site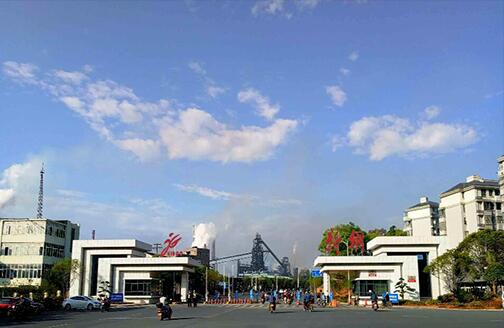 Xingang Group has a product series of more than 800 varieties and more than 3000 specifications including medium and heavy plates, hot rolled coils, cold rolled sheets, wire rods, rebars, steel strips, metal products, and chemical products.
Xingang Group always adheres to and implements total quality management, and wholeheartedly provides high-quality products and services to customers at home and abroad. "Yuanhe" brand ship plate and marine flat bulb steel have passed the factory certification of the classification societies of China, Germany, the United States, the United Kingdom, Japan, South Korea, France, Norway, and Italy. Structural steel plates, hot rolled coils, special The thick plate has passed the EU "CE" certification and Singapore "FPC" certification; the pressure vessel plate has passed the "PED" certification and "AD2000" certification.
The steel plate for hull structure and high-quality carbon steel hot-rolled wire rod won the title of "China Famous Brand". "Yuanhe" brand hull structural steel plate and high-quality carbon structural steel hot-rolled wire rod won the title of "China Famous Brand", and the output and market share of ship plates are among the top in the country. Carbon structural steel hot-rolled thick steel plate, low alloy Structural steel hot-rolled thick steel plate, hull structural steel plate, pressure vessel steel plate, boiler steel plate, bridge structural steel plate, building structural steel plate, low-carbon steel hot-rolled round wire rod, high-quality carbon steel hot-rolled wire rod, pre Twelve products including steel strands for stress concrete, seamless steel tubes for high-pressure boilers, cold-rolled low-carbon steel plates and steel strips won the "Golden Cup Award" for physical quality of metallurgical products nationwide. Hot-rolled wire rod, hot-rolled rebar, and hot-rolled Thick plates and welded steel pipes were awarded the title of "Famous Brand Product of Jiangxi Province". The structural steel for ship hulls was awarded the title of "Excellent Quality Product in Metallurgical Industry".
Reducer case of Xinyu Iron and Steel Group
ZDY hard tooth surface reducer features
1. The gear is made of low-carbon alloy steel by carburizing and quenching, and the tooth surface hardness reaches HRC58-62. The gears are all geared with grinding technology, with high precision and good contact. The main parameters such as center distance and nominal transmission ratio are optimized and designed, and the main parts and components are interchangeable.
2. High transmission efficiency: single-stage greater than 96.5%. The gears are made of alloy steel after carburizing, quenching, and the hardness of the tooth surface reaches HRC54-62.
3. Smooth operation and low noise. Small size, light weight, high precision, large carrying capacity, high efficiency, long life, stable transmission and low noise.
4. Small size, light weight, long service life and high carrying capacity. Generally, oil pool is used for lubrication and natural cooling. When the thermal power cannot be satisfied, circulating oil lubrication or fan and cooling coil cooling can be used.
5. Easy to disassemble and inspect, easy to install.