What is the reducer? What types are there
Views: 0 Author: WGT Publish Time: 2021-11-13 Origin: WGT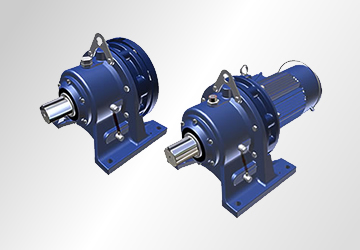 Reducer is a power transmission mechanism, which uses the speed converter of gear to reduce the rotation number of motor (motor) to the required rotation number and obtain a large torque.
Reducer type:
Planetary cycloid pin gear reducer, worm gear reducer, gear reducer, planetary gear reducer, reduction motor.
Introduction to continuously variable speed reducer:
The reducer is generally used for the transmission equipment with low speed and high torque. The motor, internal combustion engine or other high-speed power is meshed with the large gear on the output shaft through the gear with less teeth on the input shaft of the reducer. The ordinary reducer also has several pairs of gears with the same principle to achieve the ideal deceleration effect. The ratio of the number of teeth of large and small gears is the transmission ratio. Reducer plays the role of matching speed and transmitting torque between prime mover and working machine or actuator. It is a relatively precise machine. The purpose of using it is to reduce the speed and increase the torque. It has a wide variety, different models and different uses. There are many kinds of reducers, which can be divided into gear reducer, worm reducer and planetary gear reducer according to the transmission type; According to different transmission stages, it can be divided into single-stage and multi-stage reducers; According to the gear shape, it can be divided into cylindrical gear reducer, conical gear reducer and conical cylindrical gear reducer; According to the arrangement form of transmission, it can be divided into deployable reducer, shunt reducer and coaxial reducer.
1. Reduce the speed and increase the output torque at the same time. The torque output ratio shall be multiplied by the motor output by the reduction ratio, but pay attention not to exceed the rated torque of the reducer;
2. Deceleration also reduces the inertia of the load, which is the square of the reduction ratio.