What is a worm gear reducer?
Views: 0 Author: WeiGao Transmission Publish Time: 2021-09-04 Origin: WeiGao Transmission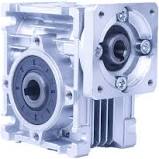 worm gear reducer is one of the sleekest reduction gearboxes available due to the small diameter of its output gear.
worm gear reducerWorm gear reducers are also a popular type of speed reducer because they offer the greatest speed reduction in the smallest package. With a high ratio of speed reduction and high torque output multiplier, it's unsurprising that many power transmission systems make use of a worm gear reducer. Some of the most common applications for worm gears can be found in tuning instruments, medical testing equipment, elevators, security gates, and conveyor belts.
SW-1 and SW-5
Torque Transmission offers two sizes of worm gear reducer, the SW-1 and the SW-5 and both are available in a range of ratios. The SW-1 ratios include 3.5:1 to 60:1 and the SW-5 ratios include 5:1 to 100:1. Both of these options are manufactured with rugged compression-molded glass-fill polyester housings for a durable, long lasting, light weight speed reducer that is also compact, non-corrosive, and non-metallic.
Features
Our worm gear reducers offer an option of a solid or hollow output shaft and feature an adjustable mounting position. Both the SW-1 and the SW-5, however, can withstand shock loading better than other reduction gearbox designs, making them ideal for demanding applications.
Rugged compression-molded glass-fill polyester housing

Light weight and compact

Non corrosive

Non metallic

Range of ratios

SW-1, 3.5:1 to 60:1

SW-5, 5:1 to 100:1

Grease Lubrication

Solid or Hollow output shaft

Adjustable mounting position