What is a gear reducer, anyway?
Views: 0 Author: WeiGao Transmission Publish Time: 2021-09-04 Origin: WeiGao Transmission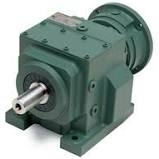 What is a gear reducer, anyway?
In the world of mechanical power transmission, there are a lot of moving parts, and things can get complicated quickly. A very important part of these systems are gearboxes – compound machines that transfer power from a prime mover to a load. Gear reducers are the primary focus of this article.
gear reducer example simplified
A simplified example of a worm gear reducer, approximating a 50:1 ratio.
Of the six basic, simple machines, gearboxes typically utilize the Wheel and Axle and/or the Screw (worm reducer) to do work more efficiently by gaining a mechanical advantage. Motors are typically designed to operate at a specific "revolutions per minute" or RPM and, while this speed can be adjusted through the use of Variable Frequency Drives, in many cases it is more advantageous to use a set, specific gearing arrangement to adjust that output speed and thereby increasing torque.
For example, if a motor turns at 1800 RPM, and that motor is connected to a 10:1 gear reducer, the reducer will output 180RPM. If that same motor has a full load torque rating of 30 lb.ft., then the output from the 10:1 reducer (assuming an efficiency rating of 85%) will be 255 lb.ft. offering a significant increase in the amount of work that can be done. Common applications of this sort would be conveyors, where throughput capacity requires specific running speeds and increased torque to move materials from one location to another.