What are the reasons for the broken shaft of the reducer
Views: 2 Author: WTG Publish Time: 2021-10-29 Origin: WTG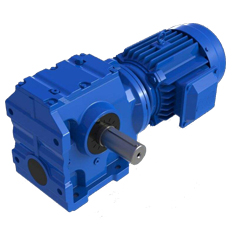 There are many parts in the reducer, of which the shaft is very important, but sometimes the shaft will break, so Xiaobian suggests that we take a look at why it happens
Improper reducer selection
When purchasing the reducer, due to the wrong judgment of the torque, the torque of the output shaft is too large or too small, which can easily lead to the fracture of the reducer shaft. Some users think that as long as the rated output torque of the reducer is selected to meet their own needs, this is a wrong selection method. The value obtained by multiplying the rated output torque of the motor equipped on the reducer by the reduction ratio is, in principle, less than the rated output torque of the similar reducer provided by the product sample. At the same time, the overload capacity of the motor and the maximum working torque required in practice should also be considered. Theoretically, the maximum working torque required by the user. It must be less than twice the rated output torque of the reducer.
Overload reducer
Overload operation is also a major killer of the shaft fracture of the reducer, which is the same as the mantis blocking the car. Without this great skill, you can't overload. The rational use of the reducer can not only reduce the occurrence of faults, but also prolong the service life of the reducer.
Improper installation of reducer
Finally, it is very important to correctly install the reducer and the position of the equipment. It is a big taboo to install the reducer in an unstable place. It is easy to break the reducer shaft in fluctuation. This situation can be well avoided by maintaining and maintaining the reducer during use.
If the reducer with qualified quality is used reasonably, it will not break the shaft. It can bring great convenience in the process of use by reading the manual or consulting relevant staff for guidance before using the reducer.
There are also manufacturers' reasons, such as poor shaft quality, inconsistent shaft links, etc., so when buying a reducer, we must distinguish between the good and bad manufacturers. On the whole, old factories are more reliable.