Repair method of bearing seat of cycloidal needle wheel reducer of crane
Views: 1 Author: WeiGao Transmission Publish Time: 2021-10-13 Origin: WeiGao Transmission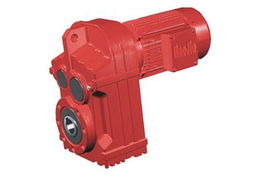 After the long-term use of truck crane, the cycloid needle wheel deceleration will have abnormal noise, heating, oil leakage and other conditions. The wear and fracture of the bearing seat and the falling off of the bearing outer ring indicate that the reducer shell is made of cast steel with poor weldability, and it is easy to produce pores and cracks during welding. When the crane rotates, the bearing seat hole bears certain vibration and impact. The material hardness is required to be moderate and have certain impact and vibration resistance. The following is the repair method of the bearing seat of the cycloidal needle wheel reducer of the crane.
1. Local replacement method
Mapping the bearing seat of the reducer, and processing a new bearing seat with high strength materials; Cut off the bearing seat from the rotary reducer housing with a lathe, and turn the interface and thread connected with the newly made bearing seat; Connect the newly made bearing seat with the reducer housing through threads, supplement the stiffeners on the reducer housing by welding, and then weld the interface; Finish the new bearing seat hole to the design size.
2. Insert method
Clean the bearing seat hole, and then bore the seat hole with a boring machine to enlarge the seat hole; The outer diameter of the cast steel insert sleeve is an interference fit with the bored seat hole; Install the insert sleeve into the enlarged seat hole and finish machining to the design size. The method is simple and the repair time is short. The disadvantage is that the clearance requirements are high.
3. Welding method
The reducer uses a boring machine to bore the seat hole, and then appropriately increase the diameter of the seat hole; Put the shell into the oven to preheat to about 400 ℃, and then heat the seat hole to red hot state (about 900 ~ 950 ℃); Surfacing with copper alloy electrode to the predetermined thickness, then put it into the oven for cooling, and finish the surfacing seat hole to the design size. The utility model has the advantages of good impact and vibration resistance, stable quality and long service life. The disadvantages are complex welding repair process, long cycle, high cost and easy wear after repair.
The comprehensive analysis shows that although the latter two have many advantages, they are not suitable for the repair of the shell bearing seat of cycloidal pinwheel reducer.