Different types of gear reducer
Views: 2 Author: WeiGao Transmission Publish Time: 2021-09-02 Origin: WeiGao Transmission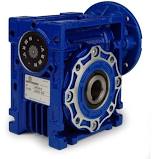 The gearboxes style of speed reducer can be divided into the in-line type and the right-angle type.

The inline gearboxes generally consist of helical gears, spur gears, harmonic wave generators, or planetary gears. Among the types, planetary gear reducers can provide the highest nominal torque in the compact design. The harmonic wave generators or cycloidal mechanisms type can offer relatively high-speed reduction ratios, either. As for the spur gears and helical gears, they can operate with similar efficiency to other inline gearboxes mentioned here but they are more economical solutions.
Right-angle gearboxes are also widely used today for various applications. Many right-angle gear reducer manufacturers provide enclosed drive speed reducers made of bevel gears or worm gears. When it comes to the bevel gears, the gear type is significantly efficient but has a speed reduction ratio limit, which is about 6:1. Within the limit, the bevel gearboxes are effective and dependable. The worm gear type, on the other hand, consists of the screw form of gear meshing with the worm gear, which is known as the arrangement of the worm screw and the worm wheel. The worm gearboxes are also a popular right-angle speed reducer nowadays since they are the most economical solution for numerous applications. The product has a minimum limit of rate reduction ratio of 5:1.